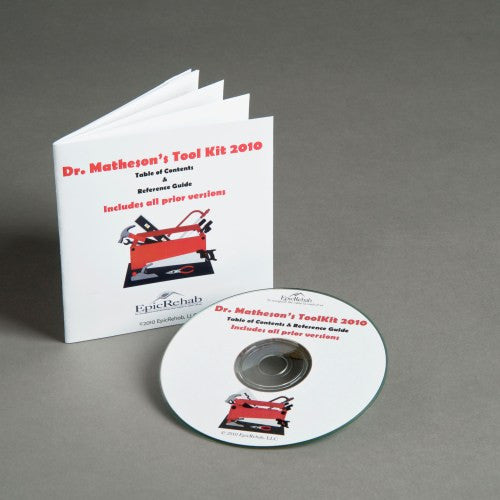 Dr. Matheson's ToolKit
$ 275.00
Dr. Matheson's ToolKit comes packed with valuable functional capacity evaluation tools, including normative data, videos, calculators, lecture slideshows and more. These integrated tools have been developed by Dr. Matheson over the last 40 years and are a valuable resource for any professional practitioner who has an interest in Functional Capacity Evaluation, Work Hardening, Forensic Rehabilitation and more.
Includes
Cal-FCP Manual, Forms, & Video
Rehabilitation Research Slideshows
EPIC Lift Capacity Test Introduction
Equipment & Tests Grouped by FAC
Feasibility Evaluation Checklist Resources
Functional Assessment Constructs Taxonomy
Functional Capacity Evaluation Marketing
Mother Report Resources
Multidimensional Task Abilities Profile Resources
Normative Data Calculators & Profilers
Brain Injury Rehab, SWAGs, & PODs
Symptom Magnification Syndrome Resources
WCE Evaluation Forms & Procedures
Work Hardening Introduction
(Read more about the ToolKit contents) (PDF)
Features and Benefits
Introduces or refreshes practitioners' knowledge in a variety of areas, such as Work Hardening, Work Capacity Evaluation, and Functional Capacity Evaluation.

Includes blank forms for use in function capacity evaluation.

Provides several useful resources for forensic rehabilitation professionals.

Includes a no-questions-asked money back guarantee. In 10 years, we have never had a ToolKit returned!
Shipping costs are computed and added when your order is processed. (A handling/shipping cost of "0.00" in your cart denotes uncertainty of actual costs.) We are happy to provide a quote before you order and will make every effort to save you money. Contact us!