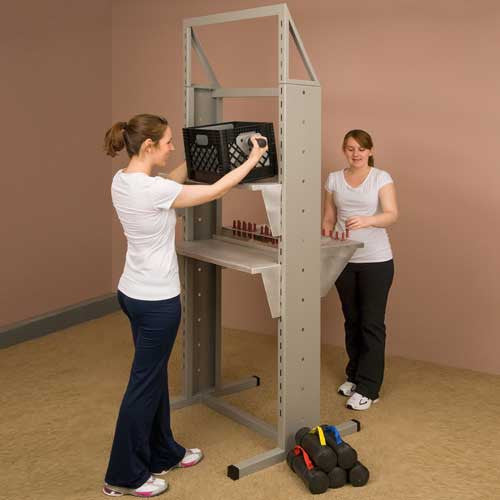 EPIC Lift Capacity + Matheson Dexterity & Range of Motion Panel System
$ 6,525.00
2014 ELC Normative Data Research Paper now available.
This heavy-duty freestanding system accommodates the Epic Lift Capacity Test (ELC) and Dexterity and Range of Motion. You'll appreciate the small (42- by 42-inch) footprint. The shelves adjust to anthropometric and metric landmarks.
The EPIC Lift Capacity Test (ELC) is an integral part of functional capacity evaluation and is specifically designed to evaluate persons with medical impairments. The ELC is a progressive isoinertial test of lift-lower capacity that uses masked free weights to allow retest confirmation of full effort. A series of progressive loads over three vertical ranges at two frequencies is used, and the evaluee's maximum acceptable weight is recorded at each range. The ELC begins at 10 pounds and progresses in 10-pound increments, using color-coded blind weights. The evaluee is not made aware of the starting and incremental loads. The ELC frequency begins at one lift per cycle for each of the three vertical ranges and proceeds to four lifts per cycle for each range if the evaluee is capable.
ELC normative data are based on test–retest trials of healthy normal males and females ranging in age from 18 years to 60 years. There are more than 4,000 reference subjects in the ELC's normative pool, which is updated periodically. Data sets of this quality are extremely difficult to achieve on more than small samples.
The ELC evaluations are performed by certified evaluators on legally approved equipment. This is an important factor that sets the ELC test apart from others. The requirement that professionals become certified on the equipment and its evaluation protocols assures purchasers of ELC services, such as physicians, attorneys, and insurance carriers, that the evaluator will provide a professional level of service.
As the only test of lift capacity to be awarded a United States Patent (#5,848,594), the ELC has been designed to assess the questions:
How much can the worker safely lift?

Over what vertical distance?

How frequently?

For what period of time?
Additional information about the ELC Test can be found HERE.
Trying to decide between the PILE and ELC Protocols? A detailed comparison may be found by following this link.
There are also many peer-reviewed studies that demonstrate the ELC's safe use in populations of persons with physical impairments. For more information please see ELC Research at EpicRehab.
With the same system, using the Dexterity and Range of Motion Protocols, evaluate fine finger dexterity, medium dexterity, gross grasp, hand-eye coordination, whole-body range of motion, sustained sitting, sustained standing, and visually occluded assembly. Includes portable panel for table top use and extension for overhead testing. The dexterity portion of the Matheson Integrated Lift Evaluation System can replace many individually purchased dexterity tests.
Included in the package:
Heavy-duty Frame w/ EPIC Shelf Height Labels          
Lift Shelves
Portable Panel                                                
Horizontal Panel                                                           
Extension w/ Hardware                                              
EPIC Color-Coded Blind Weights                                              
EPIC Lift Crate, Steel Enforced w/ Handles                                                          
EPIC Lift Clipboard                                                                                               
EPIC Recording Form Pads                                                        
EPIC ONLINE Certification Kit – for 1 Evaluator
EPIC Site License 
Heart Rate Monitor
Dexterity Case with Accessory Plates, Hardware and Storage Tubs, & Matheson Colored Pegs                        
Dexterity and ROM User Manual                                             
Dexterity and ROM Pad of Recording Forms          
You also save more than 20 percent & outfit yourself with three systems:
Matheson Integrated Lift Evaluation System—EPIC
Matheson Integrated Lift Evaluation System - Dexterity and Range of Motion Panel System
Matheson Integrated Lift Evaluation System - Dexterity and Range of Motion Panel System—Portable Panel Only
Shipping costs are computed and added when your order is processed. (A handling/shipping cost of "0.00" in your cart denotes uncertainty of actual costs.) We are happy to provide a quote before you order and will make every effort to save you money. Contact us!