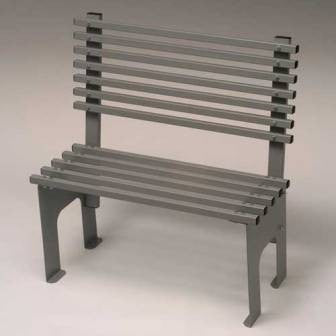 Matheson Bench
$ 915.00
A versatile device for work capacity evaluation
Assess the physical demands present in short-duration, table-height, and floor-level tasks. The Bench is primarily focused on evaluating sustained positional tolerances and upper-extremity dexterity. It gives you the opportunity for distraction-based observation of sustained standing, bending, forward reaching, hand-eye coordination, and stooping/crouching, as well as cognitive abilities related to spatial problem solving.
The Matheson Bench is a criterion referenced test. Method-Time Measurement (MTM) time standards have been established for each of the four individual test protocols and the two cycle protocols.
The Matheson Bench includes the following parts:
2 Seat-support brackets

2 Upright back-support bars 

5 Seat tubes with 2 holes at each end

7 Back tubes with 1 hole at each end

5 Bins with lids for hardware

1 Users manual – with general instructions for the evaluator, the four protocols (assembly/ 

disassembly

 at table and floor height) and instructions for reporting results with the MTM Time Standards

1 Assembly poster

1 Pad double-sided Data Recording Forms (pad of 50)

Bolts, Nuts, Washers and other hardware for assembly
The dimensions of the Matheson Bench are as follows:
Height: 36"
Width/ Length (seat & back bars): 34"
Depth (front of bench to wall): 17"
Shipping costs are computed and added when your order is processed. (A handling/shipping cost of "0.00" in your cart denotes uncertainty of actual costs.) We are happy to provide a quote before you order and will make every effort to save you money. Contact us!